¿Qué parte del cuerpo es más importante a la hora de follar? ¿Esa que está entre tus piernas o esa que
está en tu cabeza? No sé si debes preguntártelo mucho; seguramente lo mejor es dejarse llevar. Sin quererlo ya hemos llegado a una pista para la respuesta, que es en la que gira toda esta entrada –también relacionada con el montaje del cine, por supuesto. «Dejarse llevar» puede ser una expresión demasiado loca para algunas personas cuadriculadas, controladoras de todos y cada uno de los movimientos y reacciones en sus vidas, e incluso en sus cuerpos, pero ese «dejarse llevar» resulta inevitable en muchos momentos. Los voyeurs, el cine porno, y el montaje están unidos de una manera muy natural. Cualquiera que vea una escena porno puede experimentar, aunque sea de forma inconsciente, un proceso de libertad, de arte y, por lo tanto, de satisfacción.
El cine porno también puede ser artístico y, más allá del negocio y el lucro que produce la esclavitud y la producción masiva de contenido sexual, es muy respetable. En mi humilde opinión, no se puede asociar absolutamente todo el cine porno a esa turbia industria llena de chulos millonarios y casposos, esclavas y hombres de gimnasio en busca de de diversión y vigorizantes para mantener su «trocito de amor» en pie. En el cine porno, el montaje es una cualidad más de las películas. En este blog hemos contado incluso con la entrevista a la montadora de cine porno Sonny Malone [
enlace
], que nos permitió conocer la vida de una verdadera voyeur.
La destacada feminista Germaine Geer dijo de la pornografía que «es la literatura de la prostitución». Con ello denunciaba la importante suma de dinero que mueve la trata de blancas, y de la misma manera cuestionaba la industria pornográfica por mantenerse distante al resto de campos, o incluso placeres, cotidianos. Ella abogaba por deshacerse del tabú del sexo en la sociedad y, por tanto, reventar esa industria pornográfica. Para mí, respetables son las obras tanto de la industria cinematográfica (estándar), como de la pornográfica –por separado–, que por distintas que parezcan pueden llegar a ser igual de putas (las industrias, sí).
Más allá de los polvetes y de las graciosas camisetas, hay estudios que relacionan el contenido sexual de las obras con la capacidad de atención de un espectador hacia ellas. Puede resultar sorprendente. En la web
LiveScience
publicaron lo siguiente:
En la mayor parte de los casos, ver películas o cualquier otra tarea visual envía sangre extra a esta zona del cerebro. No pasa lo mismo cuando las películas son explícitas, destacaron los investigadores. En vez de eso, el cerebro parece desviar la sangre –y por lo tanto la energía– hacía otro lado, quizás hacia las regiones cerebrales responsables de la excitación sexual. (Pappas)
Por lo tanto, dado que los vídeos o películas de alto contenido sexual hacen que menos sangre llegue a la zona del cortex cerebral, los investigadores del citado artículo destacan que ante tal contenido en pantalla, las pulsiones de los espectadores estarán más dirigidas a la excitación sexual que a la recepción de la información visual. Estos estudios fueron publicados en el
Journal of Sexual Medicine
el 10 de abril por Holstege. Por lo tanto, ¿cómo contar una historia con una temática pornográfica? Se debe tener en cuenta que el espectador no es capaz de asimilar tanta información viendo una mamada en pantalla, como lo haría si no la estuviera viendo. Y esto también debe de tenerse en cuenta cuando el montador piensa en cuánto quiere que el espectador capte de todo lo que sucede en pantalla. El sexo, o el contenido puramente sexual, podría utilizarse como una especie de tamiz, capaz de neutralizar información que nos gustaría dar, pero no de una forma muy obvia. He dicho.
El resultado de esta investigación, me hace pensar en mi director de cine favorito, conocido por la capacidad visual de sus imágenes, y por el alto contenido erótico y pornográfico de las mismas.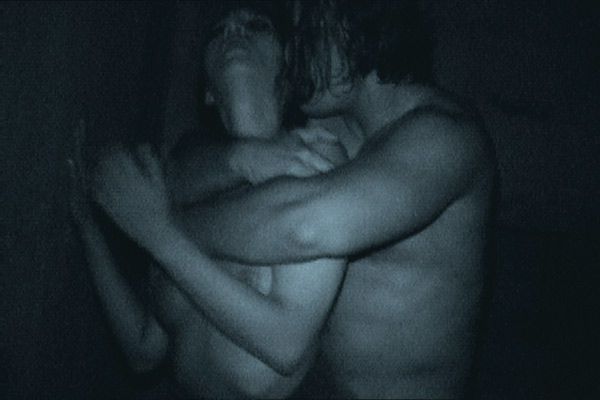 Fotograma de "We Fuck Alone" (Dir. Gaspar Noé), corto incluido en la película Districted.
Pappas, Stephanie ."Porn May 'Shut Down' Part of Your Brain."
LiveScience.
18 abril 2012.
Web:
http://www.livescience.com/19755-porn-shut-visual-brain.html
Traducción Pablo Hdez. 12 de septiembre 2013.