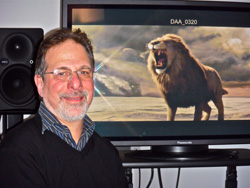 "Editor Rick Shaine has collaborated with director Michael Apted on multiple feature films, including Enigma, Amazing Grace and Enough. The Chronicles of Narnia: The Voyage of the Dawn Treader is their most recent project. The feature, which used an all-digital workflow, is being released in both 2D and 3D. See Post's December issue for an interview with director Apted.

QUESTION: Can you tell us about your working relationship with director Michael Apted?
RICK SHAINE: "I've done six or seven feature films with him, but nothing like this. This film was new ground for both of us in that it was a fantasy film and a family film. Plus we'd never worked together on anything of this scale before. The film is just under two hours long, and there are nearly 1,600 visual effects shots. We spent one year in post, four or five months in previsualization, and five months in production."

Q: Did the all-digital workflow impact the collaborative relationship between you and the director?
SHAINE: "When I was in Australia during production, the digital workflow enabled Michael and I to have much more communication more quickly than ever before. This was important on this film because Michael had a great challenge in getting everything shot on schedule. Things were so tight that when we were on a soundstage in Queensland, stage hands and other crew members would be standing around waiting to wrap sets on schedule as he was shooting them.

"We had a digital pipeline right into the editing room from the set so I could get dailies quickly. Whatever had been shot that day was sent while they were still shooting and synched up that evening. The next morning, I would start editing. Sometimes I could even get a cut in the afternoon of material shot in the morning and could talk with Michael that day to be sure he had all the material he'd envisioned. With film, I would have had to wait another day or two to access the material.

"This process also gave me a chance to request shots and coverage that we probably wouldn't have gotten if it had been a film shoot. This was a big help in terms of time and budget. I would say we got 20 to 30 shots that we wouldn't have had otherwise or would have gotten months later in a re-shoot."

Q: Were there other ways in which the all-digital process impacted the project?
SHAINE: "The film was shot on a Sony digital camera F22. The dailies were color timed on the set by director of photography, Dante Spinotti, and then sent to a Nucoda machine and downloaded to my Avid Media Composer Nitris DX system. We could carry the color grading data done on set with each image as it traveled through the post process. The visual effects houses would have Dante's timing information and could use a look-up table (LUT) with that data to recreate the look that he had originally pegged for the film. It's important to work closely with the camera department to ensure accuracy of the LUT. When that occurs, it's a valuable guide and will be a helpful model for future projects."

Q: What post gear did you use?
A: "In Australia for production, we had five Media Composer Nitris DX systems on an Avid Unity system for myself, three assistants and a visual effects editor. When we got to London where we did most of the post production, we expanded to 11 Media Composer Nitris DX systems on an Avid Unity system. I think this is the largest set-up I've worked with. We used the Avid DNxHD 36 codec for editing. Avid Pro Tools systems were also used for the sound work."

Q: What were the biggest creative challenges you faced on this film?
SHAINE: "With a director like Michael Apted, character and story are the most important elements in a film. At the same time, this is a film that is aimed at a mass audience that is used to visual excitement and a fast pace. How do you accomplish both things without giving up one or the other? It was a continual wrestling match to get the emotion from the story and keep the action moving at a fast clip.

"Also, it was a challenge editing with very basic production elements. There were several scenes where all we had was a stand-in voice on the set for the animated character Reepicheep. There was literally a little mouse doll on a stick that they would bounce around on the set. From this, we'd try and build a successful scene with the material we had. With this kind of editing there is a certain amount that you have to imagine in your head. The big battle scene at the end was the one scene where Michael Apted wanted to stick closely to the previz. I would receive action plates from the set for which I would try to imagine the action of the serpent. Sometimes I would comp in previz shots or use them as place holders. Of course, once I received the VFX shots, the battle changed considerably in the editing process."

Q: Were there any editorial techniques you used when cutting in 2D to accommodate the eventual 3D conform?
SHAINE: "The decision to release in 3D wasn't made until after the film was shot. So we discussed the film with the 3D manager to get his input on how some sequences might be re-worked editorially. For example, quick cuts don't work as well in 3D. So sometimes you stay longer on a shot than you might in 2D because there is so much to look at. There were several that I used differently to accommodate 3D elements."

Q: Were there any style guidelines from the earlier Narnia films that you kept in mind as you were editing Dawn Treader?
SHAINE: "There was a wonderful sense of Narnia that I was able to glean from watching both of the earlier films. I wasn't trying to copy an editorial style from those films, but I was trying to get the same feeling of being immersed in a new world that was very exciting to experience. This is a place where animals can speak and where time has its own strange evolution. It's a world where younger people have a lot more power than they do in the real world, and there is a feeling that anything can happen. It`s a world in which the forces of good and evil have their own fantastic symbolism. It was important to surround the audience with the same strong feeling of magic that was in the earlier films.""
Source: http://www.postmagazine.com/